Kono Pizza Announces 13 State Expansion
Kono Pizza has entered into a partnership with a food management company for continued growth in non-traditional locations.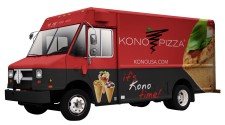 MANALAPAN, N.J., June 8, 2018 (Newswire.com) - Pizza serves as its own food group for college students. Late night study sessions, lunch, dinner and snack time usually involve ordering pizza and waiting for delivery or pick-up. Kono Pizza not only makes hot, delicious and fresh pizza - they make it mobile which means no more waiting!
Kono USA is co-owned by founders David Ragosa and Carlo Ruggiero. They brought this unique style of pizza direct from Italy. Using only healthy and authentic ingredients, Kono Pizza allows you to enjoy your favorite pizza on the go. Kono Pizza's revolutionary Kone is a perfect portable meal choice for college students. The Kones come in many different styles, sweet and savory and they even have breakfast Kones. The Kones are created to provide consumers with authentic Italian pizza made from high-quality ingredients, with mobility in mind. After decades of devouring countless slices of triangle or square-cut pizza, American consumers are about to experience a progressive new way to enjoy their favorite Italian dish. Kono Kones can be served in such a wide variety of ways the combinations are almost endless.
We see collegiate space as a huge growth opportunity for us. We have had great success with our Penn State locations not only with our product selling out but the fans now seeking out the Kono Truck/Cart at events. We are becoming a part of the fabric of the university and look forward to bringing our delicious pizza to other campuses.

Eric Ciancaglini, Franchise Owner, Kono Pizza
Ragosa and Ruggiero's unique business approach and their delicious pizza have attracted franchisees interested in owning their own business but want freedom and flexibility. Kono Pizza allows franchisees to pick what works best for them as they currently are franchising carts, trailers and trucks. With a low cost of entry, Kono Pizza is a perfect franchise for many just starting out, for those who want to purchase an entire territory, or those wanting to diversify their current business investment portfolio.
Eric Ciancaglini, who is currently a franchisee with Kono USA and has several locations including Penn State Athletics, view the university space as the key to growth. Ciancaglini has recently purchased the rights in 13 states for non-traditional growth across the country. With 3+ years of franchise experience under his belt, his approach for expansion and growth, is to penetrate colleges and universities with focus on athletics and stadiums. The initial list of schools includes University of Maryland, Temple, NC State, UNC Chapel Hill, Rutgers New Brunswick, Rowan University, St. Joe and more. Ciancaglini is open to adding more locations in the future and other non-traditional locations, like hospitals, hotels, amusement parks, ski resorts, airports and more.
Kono USA operates across multiple unit types, including carts, kiosks and mobile trucks across the United States. Located in many cities across the country including the surrounding areas near Boston, Tempe, San Diego, Orlando, Dallas, Houston, Philadelphia, Raleigh, and San Francisco. For information on Kono USA or to inquire about franchising, visit www.konousa.com.
Source: Kono USA
Share:
---
Categories: Franchising
Tags: Food Truck, Franchise Expansion, Kono Pizza, Kono USA, University Food Trucks
---
Uspech Marketing
530 Oakleaf Way
Milton, GA 30004
United States