Enter to Win a Free Franchise From Kono USA
"Be your own boss!"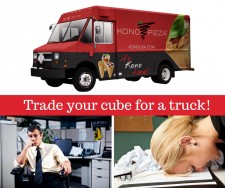 MANAPLAN, N.J., April 20, 2018 (Newswire.com) - Kono USA is giving away a franchise! Today, the opportunity to one's own boss is becoming increasingly common. Food trucks are in high demand, with with Kono's Be The Boss contest, the winner can become a part of the fast growing food truck business. The company is looking for entrepreneurs who have the personality, work ethic, and desire to be a part of the Kono family! Applicants should fill out the contest entry and explain why they want to own their own business, review the rules, and the finalists will be selected to go to the next round. Go to https://konousafranchise.com/contest for complete rules and contest details on how to enter!
Food trucks represent fresh food, hip and delicious all in one convenient dining experience. Food trucks are not just a fad, but a viable market with significant competitive advantages relative to other foodservice offerings. Customers want delicious food that is quick and convenient. Kono USA offers fresh authentic ingredients, and the ability to be mobile - which meets the consumer demand. Kono has experienced rapid growth across the country and now any entrepreneur can enter for a chance to win their own Kono USA food truck.
Kono USA is excited about the growth we've seen in 2018 and want to give future entrepreneurs a chance to escape their cubicles and to truly be their own boss. Once you work for yourself you won't want to work for anyone else - why would you; you have the best boss!

Carlo Ruggiero & David Ragosa, Co-Founders, Kono USA
About Kono USA - The Kono Kone is pizza reinvented. The Kones were created to provide consumers with authentic Italian pizza made from only high-quality ingredients, with mobility in mind! After decades of devouring countless slices of a triangle or square-cut pizza, American consumers can experience a progressive new way to enjoy their favorite Italian dish. Kones are made with real ingredients, portable and easily eaten on the go.
Kono USA operates across multiple unit types, including carts, kiosks and mobile trucks across the United States. They have several locations queued for opening in Q1 2018, including areas near Boston, Tempe, San Diego, Orlando, Dallas, Houston, San Francisco and now Raleigh. For information on Kono USA or to inquire about franchising, visit www.konousa.com.
Kono USA, INC. No purchase necessary. Void where prohibited. Legal residents of the USA only. Sweepstakes begins 4.19.18 and ends 5.11.18. Must be at least 21. Must agree to and qualify for financial terms and conditions. Got to https://konousafranchise.com/contest for complete rules.
Source: Kono USA
Share:
---
Categories: Franchising
Tags: Be The Boss, Franchising, Kono Contest, Kono PIzza Contest, Kono USA
---
Uspech Marketing
530 Oakleaf Way
Milton, GA 30004
United States